Under
Construction

Scientific name: Durio zibethinus
Common names: Durian, Civet, King of Fruit

This tropical fruit is native to Malaysia, Borneo, and Indonesia. Fruiting year-round, the Durian grows on trees as large as 150 feet. Many people avoid the fruit due to its offensive1, sewage-like odor--however; some local people consider it a delicacy. The exterior of the fruit is covered in large, sharp spikes, which in addition to the toughness of the shell, make it very difficult2 to open. Inside can be found a white to golden-yellow, fleshy meat, preserveable by freezing. Found in five segments of the fruit, the meat surrounds large brown seeds. The flesh is rich in vitamin A, phosphorus and calcium, among other nutrients. A pest of the fruit is an insect known as a fruit borer; the larvae destroy durians. Durians can weigh up to 3 kilograms, making them deadly if one were to fall from a very tall tree and hit you. Some say durians taste like garlic/onion custard with a subtle sweetness
AN IDEAL WEAPON ...THE HOUSE OF THE FLYING DURIANS
| | |
| --- | --- |
| Component | Per 100 g |
| Energy | 153 cal |
| Moisture | 64 g |
| Protein | 2.6 g |
| Fat | 3.4 g |
| Carbohydrates | 27.9 |
| Beta-carotene | 140.0 mg |
| Vitamin B1 | 0.1 mg |
| Vitamin B2 | 0.13 mg |
| Vitamin C | 23.2 mg |
Where to Get Durians
Thailand, Malaysia, Singapore, Brunei, Cambodia, Vietnam, Indonesia, Philippines, northern Australia, Honduras, Hawai`i, and perhaps a few other tropical locations on the planet. Harvest seasons vary in different areas depending on local climate, latitude, and altitude.
FICTICIOUS DIALOUGE:
HI I AM THE DURIAN PICKER. ..THIS JOB IS DANGEROUS AND DOESNT PAY WELL AT ALL ...BUT I WORK FOR MY LOVE TO THIS FRUIT ..MMMM
YUCKS!!!!
FANCY EATING THIS WITH SOME RICE?
OK... THATS A MANGOSTEEN ..NOT A DEFORMED DURIAN.
THE DURIAN TREE
WELL NOT EVERY ONE LOVES DURIAN ...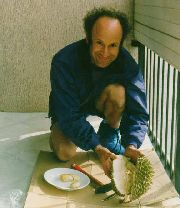 YUMMIE YUM YUM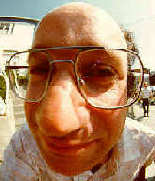 TAKE A LOOK AT MY FACE ...AND YOU WILL KNOW IF I LIKE DURAINS
EL STINKO
THE FIRST ENCOUNTER WITH THE DURIAN
TO PROVE MY LOVE TO U DARLING...I WILL EAT THIS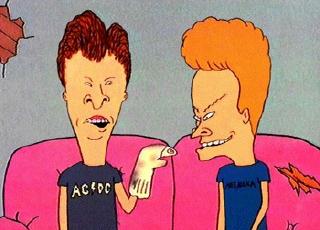 SMELLING SOCKS
YUCKIEEEEE
DURIAN DODOL
DURIAN ICE CREAM
DURIAN "OREO" COOKIES, THAILAND
DURIAN CANDY , PENANG, MALAYSIA
DURIAN CHIPS, THAILAND
DURAIN PUFF, SINGAPORE
DURAIN MOUSSE, SINGAPORE
SNIFF SNIFF SNIFF
THE KING OF ALL FRUITS...AROMA OR STENCH?
FOR U TO DECIDE.
!
DURIAN OH DURIAN...WE CAN'T LIVE WITHOUT U
Links:
Old varieties of durian rarely seen in fruit markets
YUCKIE..STINKO STENCH
(NOT WRITTEN BY IVAN LIM)
Durian fragrance
Heat waves rising in desert
Luscious oasis
Durians: not just
Delicious and nutritious...
Blissfulness itself
Ecstatic flavor
Spiky fruit's luscious pudding
Nature's grandest food
DURIAN FACE
DURIAN SPINS YOUR WORLD ROUND AND ROUND ...WITH THE SMELL OF UNDIES AND SMELLY SOCKS
artie.com/gif-anim.htm